PPV Video Success Tracker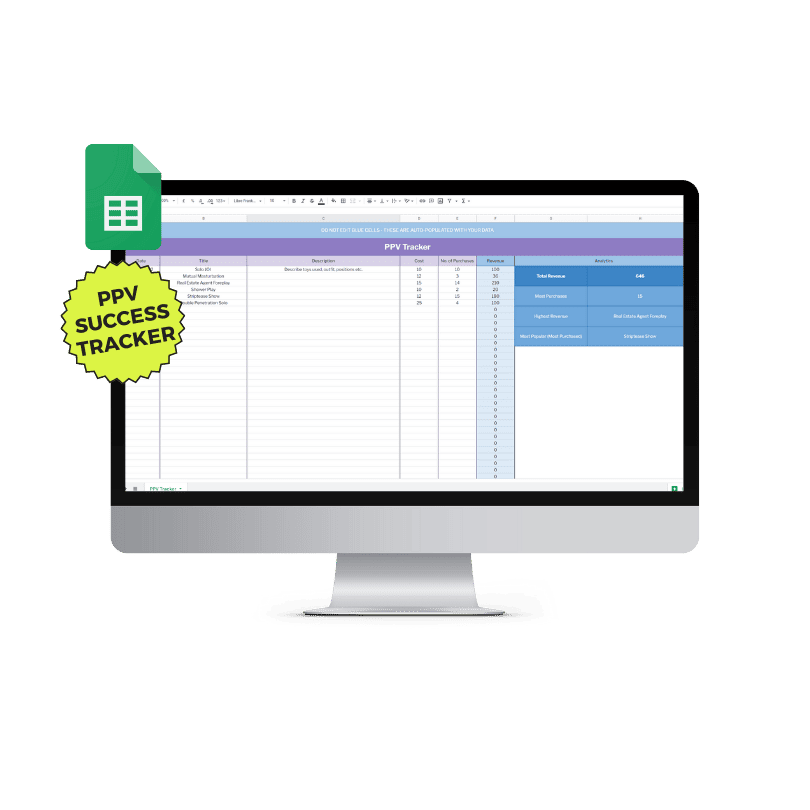 Track the performance of every PPV video!
Track your PPV video success with a details spreadsheet including date, title, subscription, cost, number of purchases and total revenue earned for each video!
Analyse your videos with automatic calculation of your total revenue, highest number of purchases, highest earning video and most purchased video!
Use your data to find the most popular style of PPV, best return on time invested and replicate your success and increase your income from PPV purchases!
When will I receive my download?
Your products will be available for instant download once payment has processed.
What is included in my download?
You will receive a single PDF file with a link to your Google Sheets PPV Success Tracker template.
Who is this product suited for?
All of our products are designed for female adult content creators who cater to a primarily male audience. If you have any questions about whether this product will work for you, please get in touch via our socials!
People often buy
Total price:
$37.00
$95.00
Save 50% when you bundle
Who doesn't love a bulk buy discount? We've bundled our most popular products together so you can save $$ and time!
SHOP BUNDLES
Just getting started? Get the Guides
Our content and marketing guides are the perfect blend of our industry knowledge & marketing experience!
SHOP GUIDES
Themed content ideas WITH captions
Save time researching new niches and planning content with our popular themed content ideas & captions!
SHOP IDEAS